We love pairing great wine with great food. We made a delicious paella last night to transport ourselves somewhere warmer than freezing Cambridge. Have a read of this article to see how we made it and what we paired it with.
We love Spain. It is one of our favourite holiday destinations and Tarifa, in the south of the country, is probably our favourite place in the world. It is our slice of heaven; sunshine, beautiful beaches, kitesurfing, insane cycling routes, amazing food and the best mojitos you can get. We have a list of restaurants that we love and visit every time we go (El Tesoro (a hidden gem from which you can see Morocco on a clear day; serves the freshest, most delicious tuna, and great meat dishes) and Vaca Loca (in the centre of Tarifa old town; amazing meat which is cooked over an open fire and served up with a mountain of chips. The secrecto iberico is James' favourite) are two of our must visits.) Of course, we can't go to Spain without having paella. When it is below freezing, on a dark, dank February day, there is nothing better than cooking up some sunshine and transporting yourself (well, at least your taste buds) to warmer climes. 
Last night, we whipped up our version of paella to enjoy with friends and some gorgeous wine.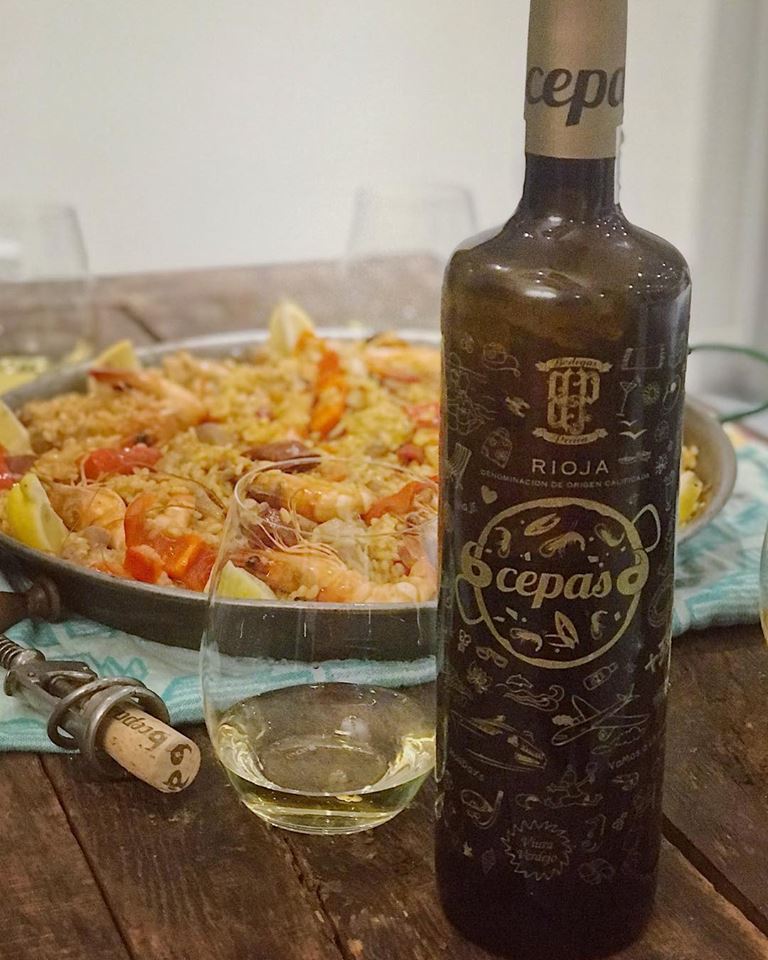 Here's how we made it:
Serves 6
Ingredients
4 Pork belly strips
4 chicken thighs (skin on)
10 king prawns
1 chorizo ring
500g Paella Rice 
A pinch of Saffron
2 Chicken stock cubes / fresh chicken stock if you have it
2 Red Peppers
1 tin chopped tomatoes
1 teaspoon Sweet Paprika
1 Large white onion
4 Garlic cloves
We have a paella pan, but a big frying pan would suffice.
1) To begin, add some oil to the pan, chop the pork and chicken thighs into roughly 2cm cubes and fry off. We buy chicken on the bone, so that we can throw the bones in for extra flavour. We have an aga and our pan is bigger than an aga hob, so we cook the pork first and then move it to the outside of the dish and then fry off the chicken. Try to get the chicken skin down, so that it can crisp up. When both meats are browned off move them to the outside of the pan.
2) Add chopped chorizo to the pan and cook off; this will release amazing oil and give great flavour to your dish. When it has coloured nicely, add finely chopped onion and crushed garlic. Cook these through.
3) Add the paella rice. We put it into the pan and let it absorb the chorizo oil and and let it cook out for about 2-3 minutes before adding one teaspoon of paprika and then one litre of hot chicken stock with the saffron (we used up what we had left, but a pinch should do it!) and a tin of chopped tomatoes (if you have time, use fresh tomatoes, de-skinned and chopped). The rice will absorb the liquid, this will take about 20-25 minutes. If you need more liquid, do add it. Make sure to stir regularly; when the rice gets stuck to the pan, it does give an amazing flavour, but you don't want a burnt mess stuck to the pan. 
4) Chop up the pepper into large chunks and place on top. Don't add it too early, you want it to be soft and cooked but not disintegrate; we aim for when the liquid has been half absorbed. 
5) Add the king prawns to the paella, push them into the rice to cook through for about 5 minutes or until they have turned pink. Frozen prawns work just as well, be sure to defrost them thorougly before cooking. 
To serve, add some wedges of lemon and enjoy! 
For us, this wouldn't be a complete meal without a great glass of wine to accompany it. We paired it with 6cepsa6 white rioja. Fresh, zingy and flavourful, this went down a treat with our guests. Its pineapple and citrus notes work really well with the deep savoury character of the dish. The label even has a paella dish surrounding the 6cepas6 logo, so its a match that you have to make!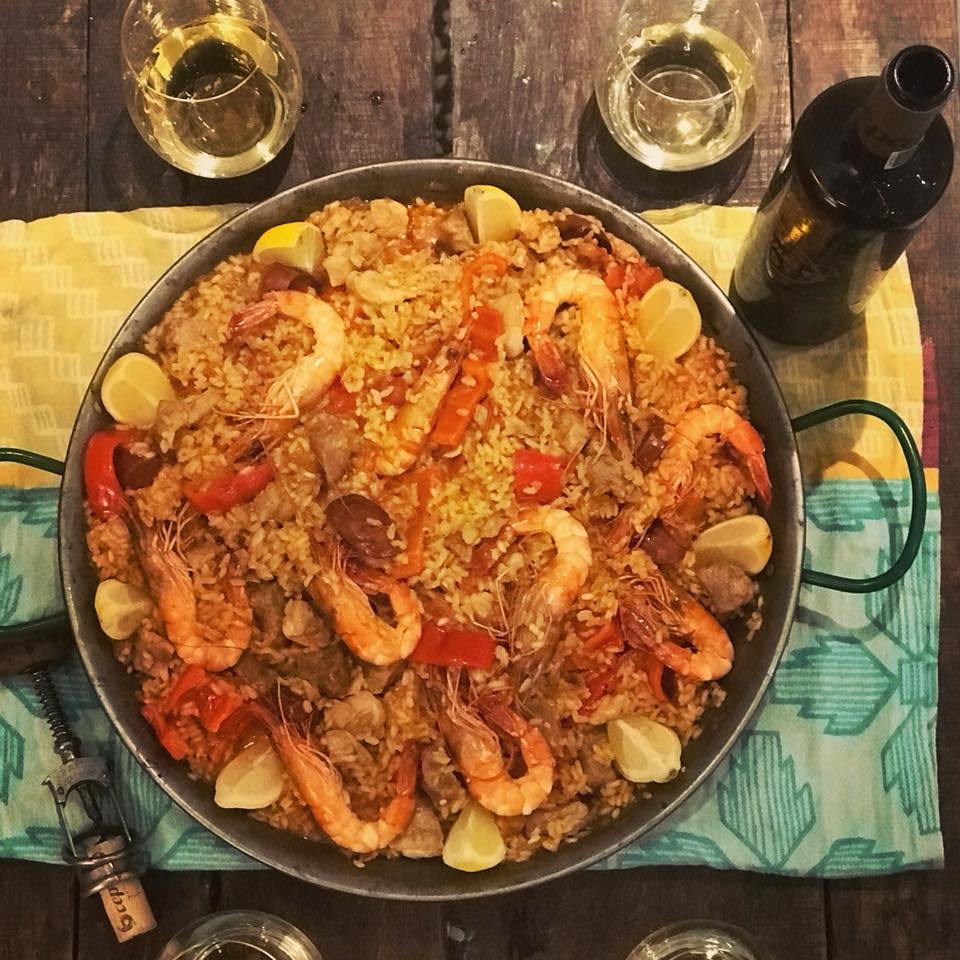 Invite some friends round and give it a go (hit the website to get yourself some 6cepsa6 first!).