Numerous celebrities have extended their brands to incorporate wine over recent years. In contrast to big name hype, AIX rose have 135 years of history behind their label, and multiple awards to attest to the quality of the wine in the bottle!
The latest "must have" accessory for the top tier celebrities appears to be their own wine label. Although Brad Pitt and Angelina Jolie acquired Chateau Miraval in 2011 and have won critical acclaim for the quality of their wines, their experience is very much the exception. In many cases the celebrity endorsed label provides cover for less than impressive wine. As Jane MacQuitty, The Times wine critic wrote recently:
"The latest in a long line of horrid celeb rosés is the dud 2019 Kylie Minogue Vin de France Rosé."
Whilst the marketing power of such brands can attract instant attention, it is the quality of the wine that will get customers coming back for more.

©  AIX Rosé
AIX rosé has certainly succeeded in attracting returning customers, having produced wines for over 135 years. Their trophy cabinet demonstrates that they can attract attention from people who matter in the wine world, with regular awards from bodies such as: Robert Parker; Le Guide Hachette des Vins; Decanter; Wine Enthusiast………
The 75ha of vineyards, situated on a plateau 420 meters above sea level, of Maison Saint Aix make them one of the largest domains within the Coteaux d'Aix-en-Provence Appellation. Their vineyards have mineral rich soils and the altitude provides exposure to the Mistral wind that moderates the  Provencal heat and helps retain freshness in the fruit. The wine is made using a classic combination of grapes: Grenache, Syrah and Cinsault with the addition of a small volume of Carignan to enhance the depth of flavour.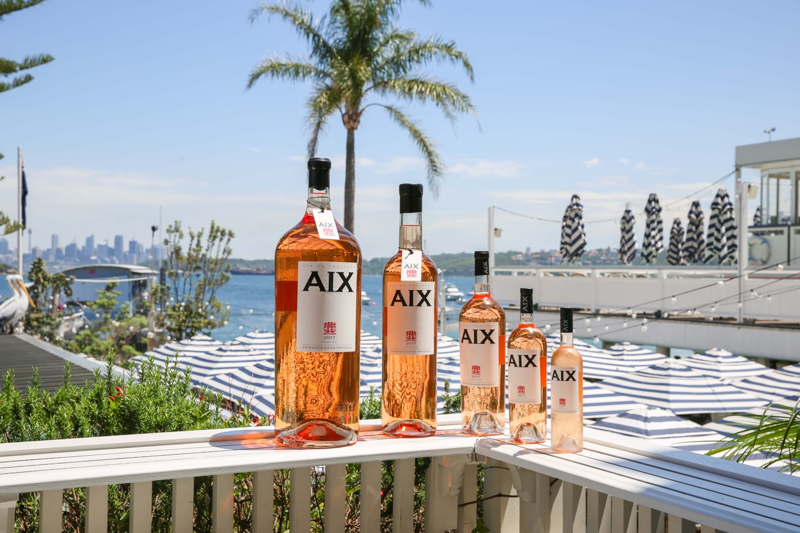 ©  AIX Rosé
The wine is packaged in an interesting range of bottle sizes from the standard 75cl to the 15L Nebuchadnezzar – enough in one bottle for the largest parties!
Sitting in the sun with a glass of rosé is one of life's great pleasures, but to ensure that you don't introduce dark clouds to your experience, pick your rosé with care: choose history over hype!
At Thorne wines we stock the complete range of AIX bottle sizes - yes, even the Nebuchadnezzar
And the even better news is that all the AIX wines are currently available at discounted prices, so to stock up ready for the next sunny spell click here
Find out more about AIX rosé here