Posted on
By David Brassington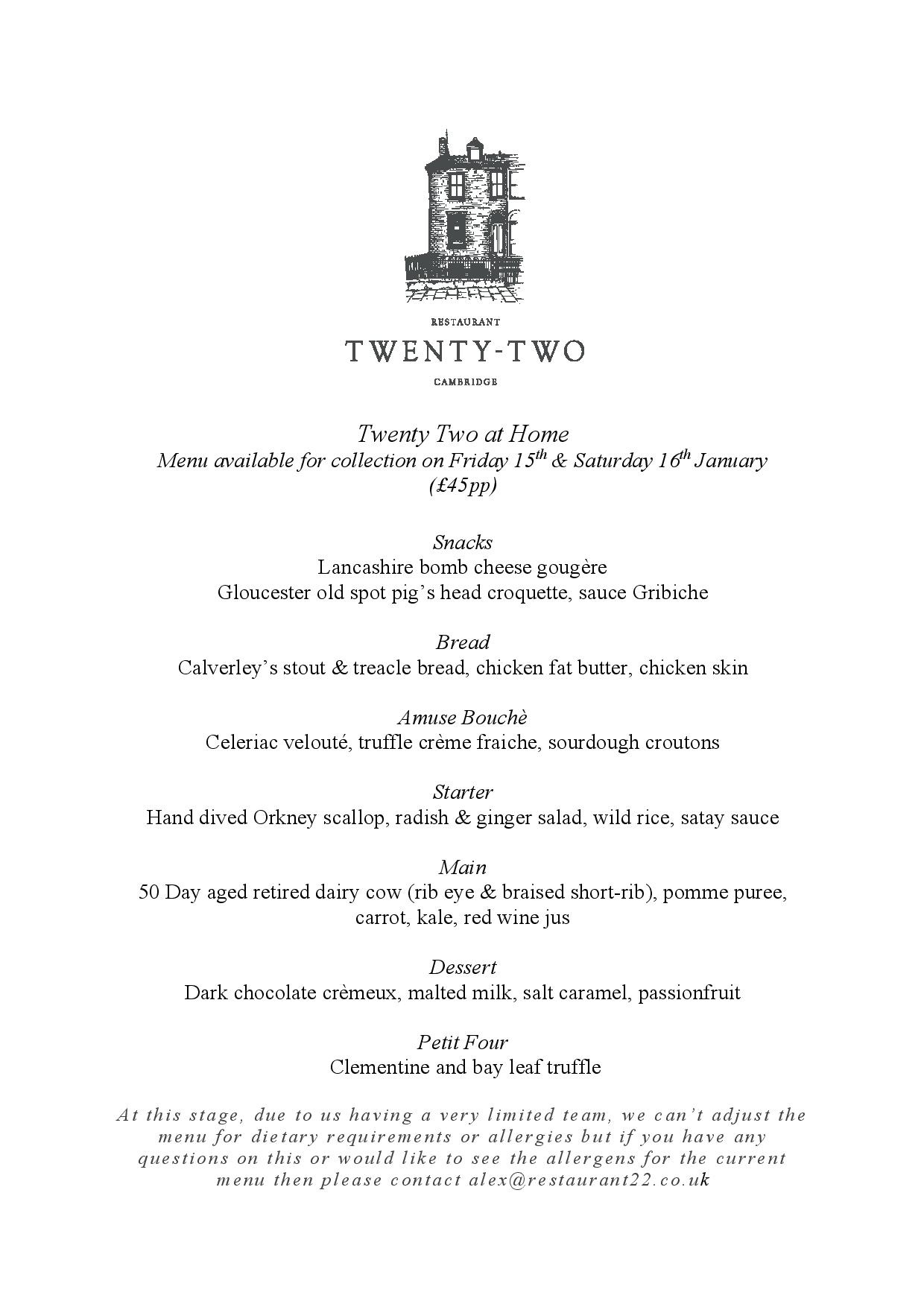 Restaurant Twenty-Two's new take away service offers the opportunity to have a restaurant quality meal at home - without too much work. It's a great treat for these lockdown weekends.

Don't forget to order the sommelier's wine pairing to enjoy with the meal!
In a cold, grey January lockdown there has not been much opportunity for having a good time – until now! Last weekend, our friends at Restaurant 22 launched their "Twenty-Two at Home" takeaway menu: and it was a real treat!
As many of you will know Restaurant 22 is one of Cambridge's culinary highlights. Owned and run by chef Sam Carter and Alexandra Olivier who looks after the restaurant, in normal times they were serving superb food in their relaxed, cosy restaurant on the banks of the Cam. They decided not to switch to serving takeaway meals in the first two lockdowns, but after the chaos of the sudden pre-Christmas shutdown they began planning for Twenty-Two at Home.
The menu for their first offering would look familiar to anyone who had eaten in the restaurant, featuring: snacks; bread; an Amuse Bouchè; starter; main course; dessert and petit fours. Just another day in the kitchen for a chef who has worked in Michelin starred restaurants, but how can that be recreated by an amateur cook at home?
Fortunately, the team at Restaurant Twenty-Two had it all worked out! The meal was beautifully presented in a compact box containing a variety of pots, sachets and pouches – and the all important instructions. Everything had been thought through really well – there were even videos for the two bits of semi – serious cooking: frying a scallop and cooking the steak. There were interesting challenges, like trying to work out how much of the cheese mixture to force into the gougère, but generally, all that was required was some gentle reheating, then trying to do the food justice by arranging it beautifully on the plate. The finished result was superb: a gourmet experience despite all restaurants being closed!
We worked with Restaurant 22 Sommelier, Alfie Scott to offer appropriate wine pairings for the initial menu:
                Vondeling Babiana 2017, from the Western Cape for the initial courses
                Res Fortes Rouge 2015, a Cote du Roussilon to complement the beef
                De Bortoli Deen Vat Botrytis Semillon 2017 to accompany the dessert.
If you will excuse our lack of modesty, we thought the wines worked really well with the wonderful selection of food. Wine pairings and a variety of other drinks to help create the perfect evening will be available each week on our website.
If you want to try Restaurant Twenty-Two at Home, more details are available here.
For the wine pairing for the next Twenty-Two at Home menu, click here.